Bucket Rentals - Bucket Items
Karoutsos Konstantinos Container Services - Crane Transport - Melissia Attica
Our company operates based on the protection of the environment and the rational management of AEKK (construction debris, demolition waste, marble-wood-factory paper cutting waste), gardening waste, packaging materials and bulky household waste. We do not allow and do not undertake the disposal of asbestos waste (type ELLENIT), household waste as well as chemical waste that is dangerous for the environment. Our goal is the recycling of materials and the production of secondary aggregates (sand, gravel, gravel 3A), in this way the minimization of the quantity that ends up in final disposal (landfill) is achieved.
Below you will find the size of the bucket that will serve your needs and the corresponding indicative prices.
Contact us and the order manager will guide you in finding the best and most advantageous solution.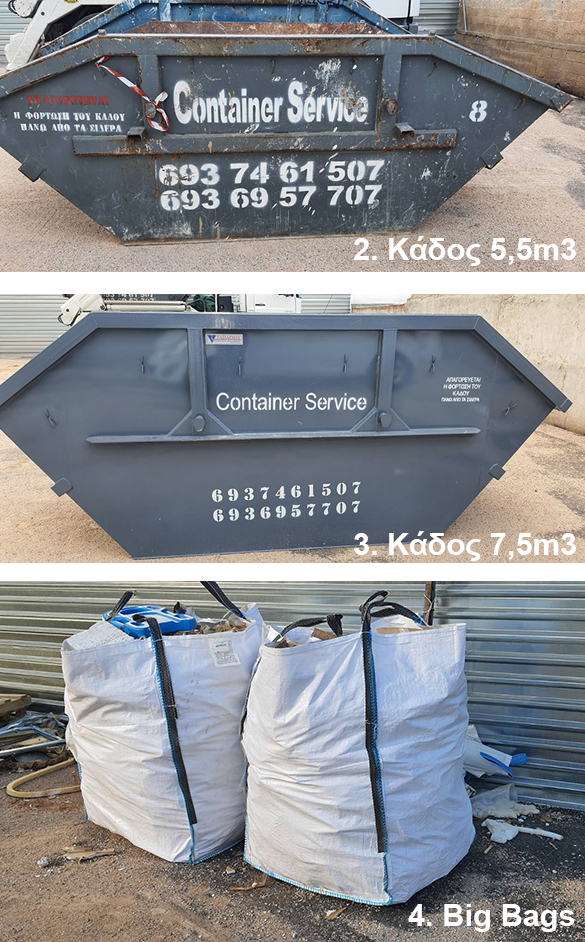 Types of Buckets
1. Bucket 3m3 Cheap Mini
Dimensions: 2.5m. length X 1.40m. width X 1.00m. height.
Capacity: 3m3
Price: from 90 euros + VAT
concerns a 7-day rental
2. Bucket 5.5m3
Dimensions: 3.6m. length X 1.60m. width X 1.50m. height.
Capacity: 5.5m3
Price: from 120 euros + VAT
concerns a 15 day rental
3. Bucket 7.5m3
Dimensions: 3.6m. length X 1.60m. width X 1.80m. height.
Capacity: 7.5m3
Price: from 130 euros + VAT
concerns a 15 day rental
4. Big Bags
Dimensions: 1m. length X 1m. width X 1m. height.
Capacity: 1m3
Price: from 30 euros + VAT
the piece
Fiscal policy
* Fully competitive prices.
* Rent for 1 or 2 weeks (depending on the bucket) without late payment. If the 2 weeks are exceeded, a delay charge starts.
* Special prices for long-term rentals or for multi-bucket rentals.